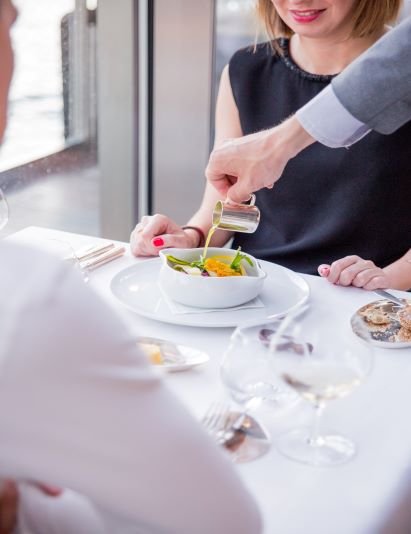 What to do on a weekend in Paris this summer?
October 2022
Are you looking for an original weekend idea in Paris this summer with your family or your partner? Escape on a timeless stroll with Ducasse sur Seine.
Live an unusual weekend in Paris with Ducasse sur Seine
For a weekend in Paris, share an unusual moment with family, friends or lovers on our 100% electric boat Ducasse sur Seine. For lunch, treat yourself to a gastronomic cruise along the Seine, during which you can discover or rediscover the most beautiful monuments of the capital while enjoying the sun from our terrace. In the evening, start your culinary journey with a champagne aperitif with a breathtaking view of the Eiffel Tower as the sun gradually disappears to make way for the starry night. The boat then embarks on a journey through the heart of the capital, A unique and exotic experience to immerse yourself in the rich history of the city while enjoying a meal in a refined and contemporary setting: the Hôtel des Invalides, the Louvre Museum, the Grand Palais... A wonderful idea for a family or romantic outing in Paris to celebrate France's rich cultural and culinary heritage.
Escape on a gastronomic weekend in Paris
Are you looking for an original idea for a gastronomic weekend? Let yourself be surprised by boarding our boat Ducasse sur Seine to savor an unforgettable culinary moment while experiencing a unique immersion in the heart of Paris. The boat's chef, Jean-Philippe Berens, with the help of Alain Ducasse, has created menus featuring contemporary Parisian haute cuisine. A cuisine combining tradition and modernity, reinterpreting the classics of French gastronomy, composed of dishes that honor seasonality and freshness of products. And to make your loved ones live this delicious experience, find our selection of gift certificates and offer them an unforgettable gastronomic interlude in an unusual setting. For lunch and dinner, our teams have concocted menus inspired by the capital, as an invitation to savor the spectacle of Paris with a privileged view of the city. For a couple's night out or a family weekend**, let yourself be tempted by the Ducasse sur Seine experience.
Privatize a boat for a weekend in Paris
For each celebration, Ducasse sur Seine offers you tailor-made cruises and services. For a wedding, a birthday, a family meal, to thank your employees or to enchant your partners, all occasions are perfect to privatize the restaurant boat on weekends or during the week. Whether you wish to organize a dinner, a lunch or a cocktail party, we are at your disposal** and can offer you special event formats to make your guests experience an exceptional moment. A unique opportunity to share with your guests an unforgettable moment in an unusual setting and to taste recipes designed for your event with our chef and his team.