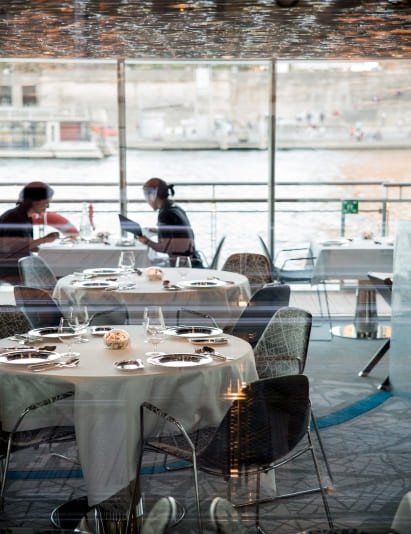 Privatize the Ducasse sur Seine boat for a lunch or a dinner
August 2022
You wish to celebrate a personal or professional event? Privatize the Ducasse sur Seine boat for a lunch or a dinner.
Privatize a boat for your personal events
To please your loved ones, privatize the Ducasse sur Seine boat to live an exceptional moment during a private cruise on the Seine through Paris. During a tour where you will have the opportunity to admire the most beautiful Parisian monuments, share a breakfast, a lunch, a cocktail or a dinner in a place entirely or partially privatized for you. Whether you wish to celebrate an anniversary, a wedding, a wedding renewal, or any other type of personal event, any occasion is a good opportunity to offer your friends and family a cruise where gastronomy, hospitality and heritage are combined to perfection. During a majestic trip through the city, trust us to concoct for you an unforgettable meal that we can personalize according to your wishes. In the kitchen, our chef Jean-Philippe Berens offers menus featuring a contemporary Parisian haute cuisine, refined, inspired by the seasons and by nature. To perfect your event, our head sommelier will accompany you to find the perfect matches for your event among a wine list with more than 100 references from exceptional terroirs, ranging from the great classics to the bottles of tomorrow, striving to honor responsible vineyards and respected ecosystems. Our teams are committed to offering you tailor-made services to bring a more exclusive and personal character to your private events. Do not hesitate to contact us to discuss your desires of decoration, art of the table, animation, course... We are with your listening to make you benefit of a magic moment entirely personnalisable.
Privatize a boat for your professional events
You are looking for an exceptional place to invite your employees or customers for lunch or dinner ? Ducasse sur Seine offers you customized cruises and services to surprise them with a unique culinary experience. For a team lunch, a professional cocktail or a company party, taste an exceptional menu, signed in tandem by the multi-starred chef Alain Ducasse and the ship's chef Jean-Philippe Berens and enjoy a clean and quiet cruise aboard our 100% electric boat. Thanks to the boat's silent propulsion technology, Ducasse sur Seine is a very suitable place to work in a peaceful and professional atmosphere. We put at your disposal adapted places with wifi access and can transform our spaces so that you can meet with your collaborators and associates in the best possible conditions while admiring the Parisian monuments by day and by night. Whether you want a "large format" event or a more confidential evening, benefit from tailor-made services from our teams. From menus to valet parking to reception, we are at your service to personalize your event.