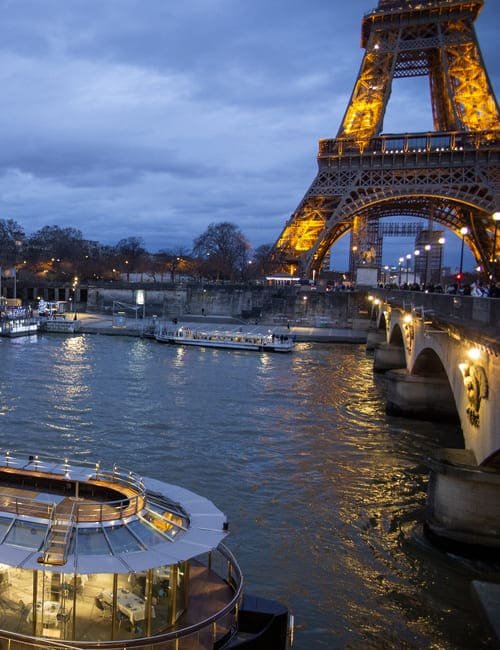 Dinner cruise Ducasse sur Seine
September 2020
A dinner cruise with a panoramic view of Paris and its most beautiful monuments!
Let yourself be guided for a dinner on the Seine and share an exceptional cruise with your loved ones. A unique opportunity to rediscover Paris by night and to spend a pleasant evening around a dinner for two or dinner with friends.
In the evening, the boat slips silently through the illuminated city and ends its journey at the foot of the Eiffel Tower... At the table, enjoy a gastronomic dinner with a multiple-choice menu punctuated by the cuisine of Chef Francis Fauvel and the prestigious pairings chosen by the sommelier.
For a romantic dinner, experience a gastronomic meal at nightfall in the illuminated city. Admire the falsely sleeping capital and witness the sublime spectacle of the setting sun on the Seine: the promise of a memorable romantic evening!
For an unusual dinner with friends or a family dinner, Ducasse sur Seine adapts to all occasions: parties and family reunions, birthdays, etc... Come aboard for a dinner cruise on the Seine and live a unique experience: observe the most beautiful monuments of the city, the redeveloped banks, the guinguettes and the historical islands to taste the splendors of the authentic Paris at night.
Discover our selection of dinner cruises with a view of Paris:
NUIT ÉTOILÉE DINNER
This soft and ecological dinner cruise on the Seine shows you the capital from another angle.
At the table, the story unfolds like a scenario, in four or five acts, punctuated by the cuisine of Chef Jean-Philippe Berens, and the prestigious and eclectic pairings chosen by the sommelier.
Nuit Étoilée Cruise from 250€ per guest.


PARIS EST UNE FÊTE
An invitation to travel to enjoy the most beautiful view from the Seine: on the monuments of Paris, the Ile de la Cité and the lively banks.
After a champagne aperitif, the meal will unfold, along the water, in six courses, in harmony with wines carefully chosen by the sommelier.
To remember this delicious moment, you will receive a delicate gift at the end of the cruise.
Croisière Paris is a 500€ per person party with champagne and food and wine pairing.