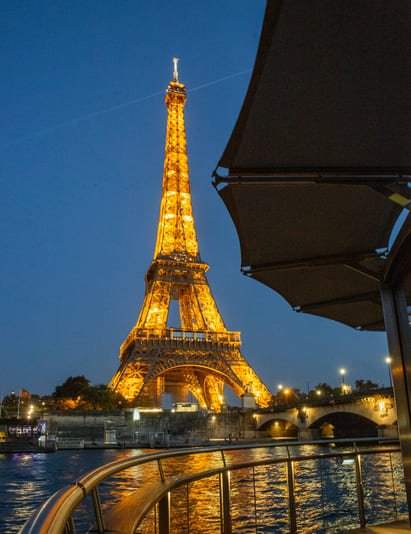 An unusual Paris tour with Ducasse sur Seine
April 2021
An original idea for an outing in the heart of our restaurant boat
For an original idea for an outing with family or friends, come aboard our 100% electric restaurant boat for lunch or dinner. Enjoy the gentle sunshine during lunch on the boat, or the beauty of the starry night during dinner on an exceptional cruise that offers a new view of the city. A perfect opportunity to share an unforgettable unusual ride while enjoying a gastronomic meal and admiring the most beautiful Parisian monuments along the way.


An unusual stroll with a view of the most famous monuments of Paris
This summer, Ducasse sur Seine offers you an unusual tour of Paris where monuments and riverbanks go by to the rhythm of the Seine. During a weekend in Paris, while enjoying your meal, discover the French capital as you have never seen it before, during a tour highlighting the most famous Parisian monuments to visit. Embark on the restaurant boat from the Debilly port and enjoy a breathtaking view of the Eiffel Tower from our terrace. During your cruise, you will discover the Louvre Museum, the Invalides, the Grand Palais and many other exceptional historical monuments.


An unforgettable gastronomic experience
Our teams will welcome you for an unforgettable gastronomic experience, featuring the latest Parisian haute cuisine created by Chef Jean-Philippe Berens. In the heart of our restaurant-boat, enjoy a summer lunch with your family or friends on a sunny day or a romantic dinner for two under the lights of the city. Discover our exceptional culinary cruises, to experience an exceptional moment where you can savour a tasty meal while having the sensation of gliding on the Seine and sightseeing Paris differently**.



A unique outing in Paris with the "Déjeuner sur Seine" cruise
The exceptional 'Déjeuner sur Seine' cruise evokes the iconic works of art of the museums along the way and offers an exceptional view of the Eiffel Tower, the Louvre Museum, or the Grand Palais... A relaxing interlude while experiencing an original visit of Paris!
Discover the "Déjeuner sur Seine" cruise


An unusual evening in Paris with the "Starry Night" cruise
At night, a completely different Paris is revealed, adorned with a thousand lights. In silence, the boat slips through the illuminated city and ends its journey at the foot of the Eiffel Tower. This gentle and ecological cruise shows you the capital from a different angle. An unforgettable experience, a unique cultural and gustatory journey to rediscover Paris, during the 'Nuit Etoilée' cruise, on the first 100% electric boat on the Seine.
Discover the "Nuit Etoilée" cruise


Privatize an exceptional moment on Ducasse sur Seine
You can also privatise Ducasse sur Seine for a private event, where you can enjoy an unobstructed view of the monuments of Paris and benefit from an exclusive access to the Terrace. You will be able to dazzle your friends and family with a breathtaking view of the Eiffel Tower and enjoy a pleasant moment with friends or family.