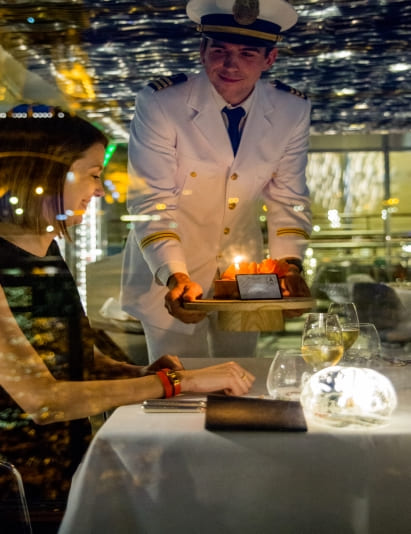 Celebrate a birthday
October 2020
Celebrate a birthday on a boat on la Seine in Paris et enjoy an unforgettable experience on board of the electric boat ''Alain Ducasse sur Seine''.
Organise a unique birthday surrounded of the ones you love.
You are looking for a original place to celebrate your birthday ? Board for a spectacular cruise with your family or friends to celebrate your birthday on the Alain Ducasse sur Seine boat. Breakfast, lunch, dinner or cocktail, enjoy an exception moment in a unique place where you can taste a high Parisian cuisine created by the multi-stared Chef Alain Ducasse and Jean-Philippe Berens the boat's Chef. A select menu, of the season, elaborated with fresh products delivered each morning on the boat, that will delight our taste buds and the ones of your loved ones on this really special day. During an out of time moment, live this unforgettable gastronomic experience for a two hours trip at the rhythm of la Seine where you will get the chance to contemplate the most beautiful monument of Paris while relishing an unforgettable meal. As the city is passing before your eyes and your guests' eyes, you peacefully enjoy this feast day thanks to the low-noise propulsion technology of the boat**.
Privatise a boat for your birthday
To celebrate your birthday on a boat in Paris, privatise Ducasse sur Seine to live an expection moment during a private cruise on la Seine through the capital. Share a breakfeast, a lunch, a cocktail or a dinner in a place complitly or partly privatised for you**. During your event aboard of the restaurant boat, our team will guide you to make our event magic.
For a small group, Ask «la Table du Chef », located in the middle of the boat, with an incredible vue of la Tour Eiffel. You'll can accommodate up to 12 guests, in a convivial atmosphere.
Located on the upper deck, le Carré offers you the opportunity to organise a business meal or a private event. The space can welcome up to 20 guests and has an exclusive access to the terrace.
For a « big event », the front desk, shared in two rooms, can be completely privatised for 102 ou half-privatised for 45 people.
Whether you want a « big event » or a more private event, benefit of customized prestations with our team. To bring a a more exclusive and personal character to your birthday on board of Ducasse sur Seine, our team are at your disposal to propose services and formats of particulars events:
Guided cruises
Animations
Sound systems of the boat and the pontoon
Aperitif on the pontoon – depending of the weather
Breakfast, Tea time, customized menus
Navigation route can be modified on resquest
Floral decoration
…